Situated at the south of Vietnam, Can Tho is a bustling town with an even busier waterfront. Blessed with a fertile land, Can Tho is one of the largest agricultural producers in the Mekong Delta, often referred to as Vietnam's rice basket.
Explore what buzzing Can Tho has to offer in this week's Destination Highlight.
Cai Rang Floating Market
Cai Rang Floating Market is the largest wholesale floating market in the Mekong Delta with plenty of boats selling an assortment of things like fresh vegetable, fruits, aromatic coffee, delicious noodles, and more. To find what you want, simply look out for the pole erected at the front of each boat to see what they're selling. Once you find what you want, head over and make a purchase! Savour delicious local delights here for breakfast and experience what it's like to balance a hot bowl of noodles with the constant swaying of the boat.
Opening Hours: 4.00am – 12.00pm (Monday – Sunday)
Fresh produce for sale
Image via: Temples & Tree Houses

Plenty to choose from
Image via: Top Vietnam
Source: Travelfish.org
Ninh Kieu Wharf
Ninh Kiew Wharf is located on the bank of Hau River, a distributary of the Mekong River. At the centre of the wharf stands the statue of Ho Chin Minh. No matter the time of day, Ninh Kieu Wharf bustles with plenty of movement, activities, shopping and food! If you plan to visit the Cai Rang Floating Market, you can rent a boat and proceed from here.
A visit in the morning would be a completely different scene as people come over to play sports and exercise. In the evening on the other hand, food stalls are setup and you can eat along the banks and enjoy the night scenery.
Pro-Tip: Look out for the Can Tho bridge nearby that's lighted up.
Bridge afar
Image via: Vietnam Adventure

Ho Chi Minh statue
Image via: Vietnam Adventure
Source: Vietnam Online
Tay Do Night Market
There's always something exciting about going to a night market no matter where you are. Experience the local scene at Tay Do Night Market which comes alive at night selling all sorts of items. Located approximately 1km from Can Tho City, Tay Do Night Market is the largest trading centre of the Southern provinces. Sample local delicacies and don't forget to bring home gifts!
Opening Hours: From 5.00pm (time may vary)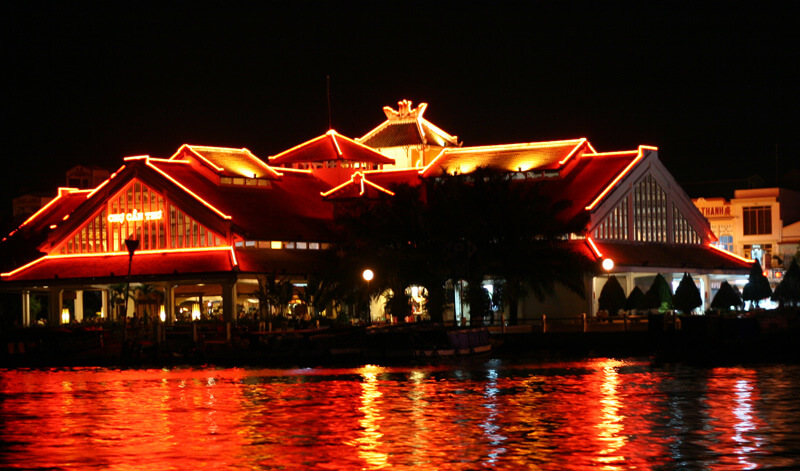 Source: Vietnam Adventure Tours
Ong Temple
Facing the Can Tho river, Ong Temple is located inside the Guangzhou Assembly Hall, just a 3-minute walking distance from Ninh Kiew Wharf. It was built in the 19th century to worship Kuang Kung, a deity symbolizing loyalty, justice, reason, intelligence, honour and courage, among other merits. This quaint temple remains a great example of Chinese architecture with exquisite artwork and statues of deities.
Opening Hours: 6.00am – 8.00pm (Monday – Sunday)
Ticket Price: Free
Spiral incense
Image via: Thuy Dao Nguyen

Ong Temple
Image via: Thuy Dao Nguyen
Binh Thuy Communal House
For architecture enthusiast, this is the place for you. Known in the past as Long Tuyen Communal House, it was established on 9th November 1893. The architecture of this house is unique compared to the other communal houses built in the northern region as the front and back buildings are square, and its side has six rows of columns. The columns' bases are also constructed extra wide, making the building extra stable.
Opening Hours: 8.00am – 12.00pm; 2.00pm – 6.00pm (Monday – Sunday)
Ticket Price: 15,000 VND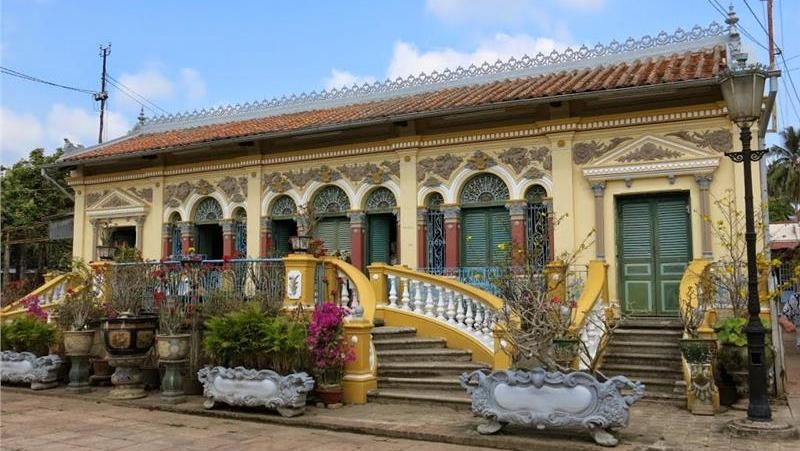 Source: The Saigon Times
Unsure what's around the riverbend? Then don't forget to get travel protection before you fly!

If you're flying with AirAsia, get AirAsia Travel Protection now.

If you're flying with other airlines, get Travel Easy now.