A sight to behold, sakura is full of grace and beauty. Its gentle pink buds blossoming gracefully attracts millions of tourists for a chance to catch a peek of its splendour.
Unfortunately, the sakura season is relatively short, which is probably why we try to capture the essence of spring in Japan in multiple ways. From food, drinks, perfume and more.
So, just in case you missed the blooming period, not to worry, here are some amazing sakura goodies you can get your hands on instead!
Covered in floral prints, the Sakura Collection by Starbucks Japan is 😍
This year, they've come up with two drinks: Sakuraful Milk Latte and Sakuraful Frappuccino.
And while you're there, why not pair some pastries with your beverage? There's Sakuraful cream roll, chiffon cake, donuts, and pudding to choose from.
As for your friends and family back home (and perhaps yourself), you can bring home their beautiful merchandise for their own feel of sakura. Interestingly, Starbucks has come up with two collections for their merch. Rin reflects the Sakura in the day while Yoh reflects the sakura at dusk.
You can find their items online here.
Rin

Yoh
Source: SoraNews24
Image: Starbucks Japan
Eitaro Cherry Blossom Raindrop Jelly
How about something for the 'gram that's sure to make your followers jelly melly? This traditional jiggly delight is from an Akita confectioner that dates back all the way to the Meiji Era. A definite eye pleaser with its perfect curves and a homegrown sakura bud in the centre, the sakura is pickled and honey is added for a hint of sweetness. The translucent jelly on the other hand is flavoured with cherry blossom liquor.
You can find them online, in Eitaro stores or at the Akita train station and airport.
Eitaru Cherry Blossom Rain Jelly
Source & Image: Grape
Coca-Cola Japan
For all the collectors out there, Coca-Cola is back with another limited edition classic bottle. Designed with fluttering sakura, this year's design mixes the fully bloomed flowers with budding flowers.
Source & Image: Coca-Cola Japan
Sakura Chill Bar
Located at Minami Aoyoma in Tokyo, this flowery bar is scheduled to open on 22nd March to coincide with the predicted sakura blooming period. Putting spring in every step (and corner), the Sakura Chill Bar is decorated with faux sakura trees and a sakura pool filled with 1.2 million replica sakura petals. The pool is only knee-deep but it's enough for guests to cover themselves in flurries of pink.
While here, guests can choose from 23 different brands of sake from the southwestern prefecture. Non-alcoholic beverages are also served here.
Take note that Sakura Chill Bar is only opened from March 22 – March 31.
Pool of replica sakura petals

1.2 million replica sakura petals

Bury yourself in pink petals

23 sake to choose from
Location: Tokyo-to, Minato-ku, Minami Aoyama 3-13 (located inside Commune 2nd center)
Opening Hours: 3.30pm – 9.15pm (weekdays) | 11.00am – 9.45pm (weekends)
Source: SoraNews24
Sakura Mochi
Sakura mochi is a type of wagashi, a traditional Japanese confectionary made of sweet glutinous rice filled with red bean paste and wrapped in a pickled sakura leaf. This dessert is typically consumed on Hinamatsuri (Japanese Girl's Day) to celebrate the beginning of spring and to wish good luck and health for all the girls in the family.
The sakura leaf can be found in Japanese supermarkets or online.
Try the recipe HERE.
Source & Image: Just One Cookbook
Though Botanist has a new series of body care featuring the fragrant sakura, we're here to talk about their Sakura Burger instead. Find this kawaii vegan "pretty patties" for a vege boost at their peaceful café in busy Shibuya.
According to their Instagram, it's made of sakura pink buns with sweet potato, fresh seasonal vegetables, soy-bean patty and vegan cheese, and aurora sauce naturally coloured pink with beets. Tasty!
Find their menu HERE.
Location: Japan, 〒150-0001 Tokyo, Shibuya, Jingumae, 6 Chome−29−2 助川ビル1F
Opening Hours: 11.00am – 8.00pm
Image & Source: Botanist Tokyo
Muji treats all day, errdayy! Wonder no more about what's for tea time thanks to Muji's sakura treats. From daum cake, rice jelly pancake, mochi, buns, sandwich cookie, marshmallow to tea! Sounds like the perfect tea time setting with plenty to choose from.
Sakura Cream Sandwich Cookie

Sakura Green tea

Sakura Marshmallow
Source & Image: Muji Japan
Want to take home the smell of spring in Japan? Get Laundrin's new 2019 sakura collection of fabric softener and fabric refresher! A graceful blend of fresh peaches, fruity and floral notes of cherry blossoms, and cherries, Laundrin is sure to turn dull laundry days to an uplifting chore.
Find their products HERE.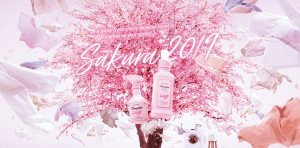 Source & Image: Laundrin
Did you also know that you can redeem RM50 if you miss the sakura blooming on your holiday to Japan? Exclusively with AirAsia Travel Protection. Find out more here!