Inspiring the Development of Mobile Phone Apps to Save Lives & Help Pedestrians
About S.O.S Safety on Streets
Tune Protect launched the S.O.S. Safety on Streets Challenge in June 2017 in line with the United Nations Sustainable Development Goal No. 11 that promotes Personal Safety. Our focus was on Road Safety in view of the high number of road accidents recorded in Malaysia compared to the rest of the world.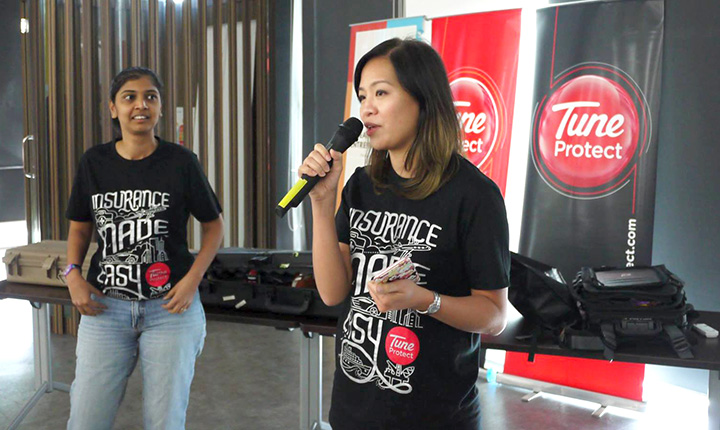 Tune Protect Head of People & Culture Yap Hsu Yi welcoming the undergraduate contestants to the Bootcamp and competition.
The IDEATE Bootcamp
This IDEATE Bootcamp was an initiative that saw collaboration between Tune Protect, Malaysian Global Innovation & Creativity Centre (MaGIC), Road Safety Department Malaysia (JKJR), and Malaysia Digital Economy Corporation (MDEC). The challenge saw participation from young and talented undergraduates from 10 universities. Teams went 'head-on' against each other in conceptualizing ideas for road safety applications with a mission of improving road safety in Malaysia. 9 teams were shortlisted and the finalists attended an intensive 2-day Bootcamp that saw renowned industry experts share ideas and their experience about 'Design Thinking', 'Idea Validation', 'Business Model Canvas' and 'Effective Pitching'.
Industry experts sharing about 'Design Thinking', 'Idea Validation', 'Business Model Canvas' & 'Effective Pitching'
And The Winner is...
The moment of truth arrived and finalists presented their ideas before a panel of judges consisting of representatives from Tune Protect, MaGIC, JKJR and MDEC. Winning the Best Idea Award was Team Green Light from HELP University which took home RM5,000 for conceptualizing Walk Tune App that provides a navigation service which leads pedestrians to the safest routes towards their destination.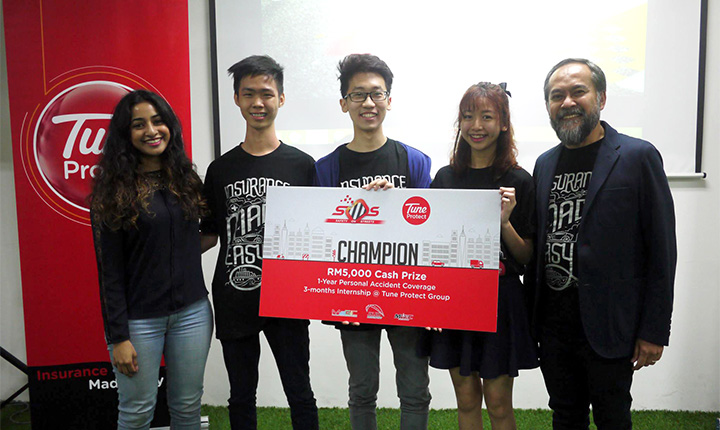 1st Place Winner Team Green Light from HELP University with the Champion RM5,000 Cash Prize mock cheque presented by Tune Protect Group CEO Razman Hafidz Abu Zarim
The 2nd Place Cash Prize of RM3,000 went to Team Hoff from KDU University College for their idea of an App that helps to prevent accidents by helping to keep phone usage while driving at bay. The judges awarded 3rd Prize to Team Carma from Multimedia University for their 3-in-1 App idea that encompasses a game, rewards and parental guardianship. In addition to the Cash Prizes won, all winners were presented with a 1-Year Personal Accident Coverage and a 3-Months Internship @ Tune Protect Group.
S.O.S. Safety On Streets winners, contestants and organizers from Tune Protect, MaGIC, JKJR & MDEC strike a pose for the album.
Catch Tune Protect's Head of People & Culture Yap Hsu Yi in the AFO LivE with MAG's video interview promo above and her BFM Live & Learn radio interview podcast.
The New Straits Times reported this digital initiative in its article entitled 'App to help pedestrians'.