Promoting Regular Blood Donation to Reduce Heart Disease Risk
In conjunction with Tune Protect's Heart Health Month 2018, we organized another Blood Donation Drive because donating blood is closely linked to heart health. According to a study in the Journal of Blood Medicine, donating blood regularly can reduce the risk of heart disease by significantly lowering cholesterol levels and harmful iron stores which protects against cardiovascular disease and heart attack risk!
So once again, blood donor Superheroes thronged the Wisma Tune Ground Floor Lobby, where the National Blood Bank had set up the blood donation station. It was a first for many and a repeat for a few.
Tune Protector Alicia Lee was all smiles knowing that her donation would save lives and protect her heart too
Superhero Lizam Salaman arrived immediately after Alicia and was thrilled to see the 'power' he was unleashing
Donors were presented with the Tune Protect ProSpeed collectible badge that is one of the badges in the collection of five.

Salasiah and Zulizam proudly holding up the Tune Protect Superhero collectible badge that represents their personal sacrifice
The drive welcomed other affiliates and tenants in the building. Neighbours from other companies nearby joined in the effort too, thanks to the posters that were pasted at strategic locations.
A Tune Talk affiliate glad to be a part of this effort that can save up to 3 lives per donation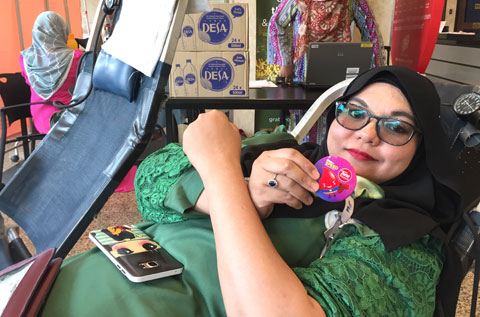 The little ProSpeed badge reminded donors of how their blood would help to speed up the healing process for the donee
As it was Heart Health Month, Tune Protect had a surprise in store for Donor #36. Our collaborative partner, Quaker Malaysia, sponsored a goodie bag filled with Quaker Oats yummies that was waiting for oblivious donor #36 . Who was he or she?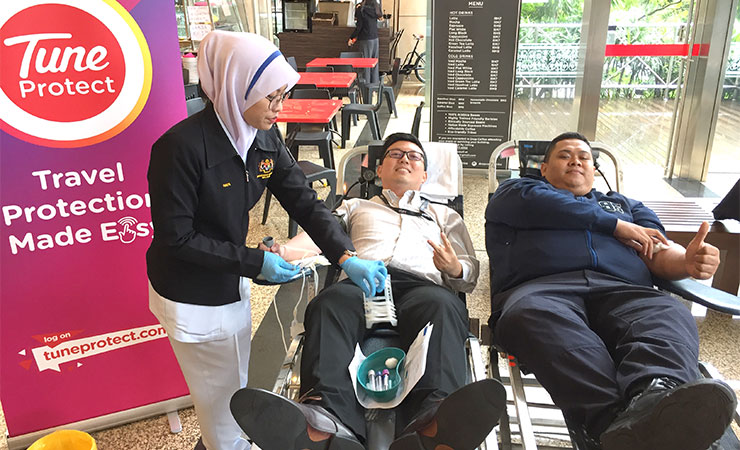 Neither one of these donors was donor #36, but we showed our gratitude with ProSpeed badge, cream buns, biscuits and boxed drinks
So who was donor #36?
Donor #36 was our Wisma Tune Senior Security Guard Encik Roslee Bin Hashim!
A surprised Encik Roslee receiving his goodie bag filled with Quaker yummies specially sponsored by Quaker Malaysia
To Tune Protect, blood donation is so much more than our Superhero collectible badge or goodie bags…it is about employee volunteerism and about answering the call to save our fellow human beings who are dependent on our donation. This is the very core of our CSR mission – to serve the dependent and underserved. Have we achieved our mission? Yes, we have, thanks to our heroic donors!