The only time in Tune Protect when our rival culinary skills, creativity and marketing prowess collide for a very good cause!
The mission was to raise funds to purchase laptops for our Tune Protect Orang Asli Financial Literacy, Empowerment & Entrepreneurship (FLEE) bootcampers to help them start their businesses. The strategy was to pit departments against each other in a healthy competition to raise funds for the project. Smaller departments combined forces against the bigger ones and menu items were kept secret until the final menu was published. The rules were flexible – departments could cook, prepare and sell or resell as much food and drinks that they could. Pricing was totally up to the department. The department that raises the most funds wins a surprise! There was only one main rule – selling could only start at 12.00pm and the last sale cannot pass 2pm.
Steven Wong marketing his pizza to Norhainizam
Kogi found herself a special offer!
Rival stalls put their marketing and diplomatic skills to the test
It was an effort that brought Malaysians of various races and religions together in support of the underserved Orang Asli community. It was also a notable environmental protection effort. 2-in-1 would really be an understatement.
True Malaysians Izura, Kimberly, Jeya, Hawariah & Dilla
This photo was taken shortly before their yummies were sold out.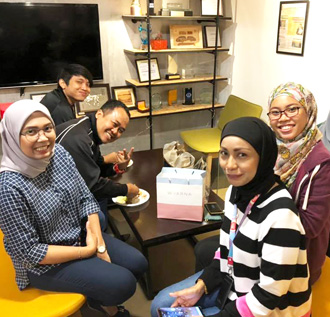 A hungry Suhaimi could not resist diving into his lunch
Why was this it coined 2-in-1? It was a CSR initiative that also had a "pinch of green" because there were no disposable plates, cups and eating utensils used. Diners had to bring their own reusable items. In addition, non-toxic biodegradable washing detergent was supplied to protect our waterways. Finally, photodegradable garbage bags that biodegrade naturally in the heat were also used.
Lisa Tan reversing global warming with recycling
Non-toxic and biodegradable washing detergent was supplied
Effa and Mohd Sufee with their food and drink in their own reusable container and mug
Our affiliates in Wisma Tune could not resist following the aroma and buzz!
A winking Shawn Lim from Tune Talk "walked the talk" by protecting the environment with his reusable container
Rosmila from BigLife and her huge Nando's mug fell in "luv" with our bazaar
Spencer Lim from BigLife gave us a thumbs up nearing the end of the bazaar
We raised RM6,060 in just under two hours and used the proceeds to purchase 3 HP laptops for our budding Orang Asli entrepreneurs undergoing our financial literacy programme (FLEE).
Clive Allan William Hunt, President of Majlis Belia Orang Asli, celebrating the purchase of the laptops soon after the event with Yap Hsu Yi, Chief – People & Culture
The event was truly a commendable effort that made us all proud to be Malaysian. Happy 62nd Merdeka Day everyone!