Tune Protect Raging Bulls paint the Exchange Square Red!
Tune Protect competed in the Bursa Bull Charge Run 2019. It was originally supposed to be in August but it was postponed to November because of the bad hazy conditions caused by the forest fires in the region. The Tune Protect 'Raging Bulls' waited 'impatiently' to lock horns with the competition, and they were also eager for the sponsorship funds for our runners to reach the beneficiaries of Yayasan Bursa Malaysia in line with the United Nations Sustainable Development Goals No. 3, 4, 11 & 13 promoting Good Health & Well Being, Quality Education, Sustainable Cities & Communities and Climate Change.
Tune Protect sent a contingent comprising 17 runners, 7 dancers who doubled up as the Cheer Squad and 7 volunteers.
Nothing like a good Secret Recipe balanced meal for a burst of energy and nutrition before the event.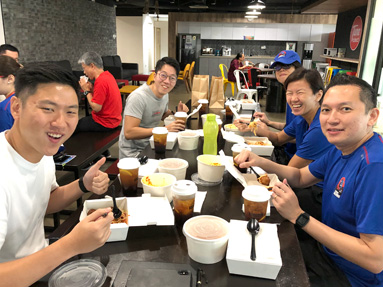 The Raging Bulls left Wisma Tune [email protected] 12.30pm
The Raging Bulls Cheer Squad lived up to its name by making its presence felt. The squad cheered our runners on……and to scare the competition.
Here is your Tune Protect Raging Bulls WANTED list :

1.5km C-Suite Challenge
Tune Protect Malaysia Chief Information Officer Tan Lin Hong feeling victorious for not breaking a sweat just after his run

3km Corporate Challenge Team
Affryll Teo, Angie Tan, Erin Low and Tan Juat Khian just before flag-off
Roadrunner Angie Tan finished 4th out of 149 runners in the Women Open Category with her 00.18.17 run!
Veteran runner Tan Juat Khian kept the heat up for 20 others in the Veteran Men Open Category and emerged 8th!

5km Future Leaders Challenge
Our Raging Bulls standing out on the crowd…..the tallest guy in the picture is also our Raging Bull
An exhausted Peter Kok came in at #10 (out of 71), clocking a speedy 00.28.27
Ashish Khilnani oxygenating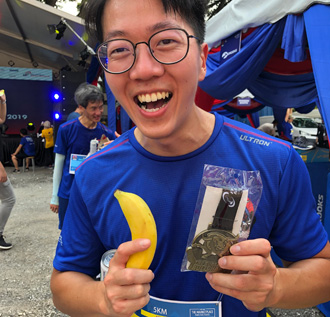 Terrence Wong thrilled to received his Banana & Medal Combo!

Raging Bulls with their medals after the race
(squatting from left to right) Fakhrul, Mohd Adly, Terrence, Erin & Peter
(standing from left to right) Tan Kah Weng, Dixon, Ashish, Tan Lin Hong, JK, Yasmin, Angie, Azrieyana & Affryll

The Dizzy Tuners
Celebrity emcee and bodybuilding buff Linora Low all dizzy with our Dizzy Tuners
(from left to right) Kartina, Kogi, Rozita, Nisa, Faridah (Bursa Malaysia), Linora, Nur Syukrina, Fatin & Janice

The Dizzy Tuners dedicating their dance to all at a Tune Protect
The Dizzy Tuners took 4th place for this first attempt against Affin Hwang, Bursa Malaysia, Petronas, Maybank Investment Bank with this dance…

The secret of our raging success is the way we practice Diversity & Inclusion, the picture-perfect Tune Protect way. The Raging Bulls united triumphantly for a very good cause.

A special thanks to our wonderful volunteer photographers Lisa Tan and Alex Lor for covering this event.