Making the Christmas Wish of 123 Orang Asli Families Come True
Tune Protect learnt from the Tune Protect Orang Asli Bamboo Straw Enterprise entrepreneurs that their fellow villagers in Rompin and Bahau in Negeri Sembilan wished for essential food items (Christmas Stars) for Christmas. Malnutrition is a problem plaguing the Orang Asli everywhere and so we sprang into action to rally staff to donate rice, flour, cooking oil, sugar, salt and nutritious beverage for 123 Orang Asli families; 95 for the villagers in Rompin and another 28 for the villagers in Bahau. Our staff from Kuala Lumpur, Selangor, Malacca, Kuching and Adelaide, Australia pitched in to donate Christmas Stars and watched their names appearing on our Virtual Christmas Tree above! After just 8 days, we were ready for Santa to deliver the "Christmas Stars" to the villagers.
On 21st December, representatives from Majlis Belia Malaysia and Majlis Belia Orang Asli Malaysia extended their appreciation to all of us at Tune Protect when they collected the Christmas Stars from our corporate office. All 123 "Christmas Stars" were then loaded into "Santa's Sleigh" that was parked neatly by the side of the building.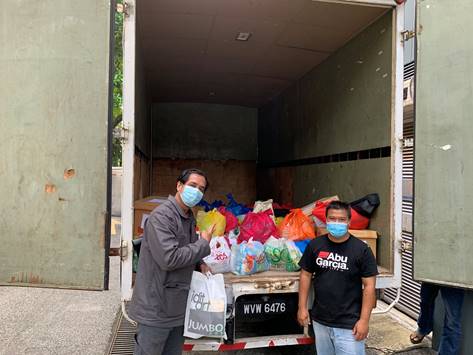 "Santa's sleigh" safely delivered the Christmas Stars into the hands of the villagers who followed established COVID-19 SOPs.
Tune Protect also donated several boxes of pre-loved items that our staff donated to the villagers.
And so the villagers thanked Tune Protect, Majlis Belia Malaysia and Majlis Belia Orang Asli Malaysia for making a meaningful difference that Christmas. The "Wish Upon a Christmas Star" Initiative was reported in the New Straits Times, Malaysian Business Online and the Malaysian Insurance Institute Publications. This initiative was in line with the United Nations Sustainable Development Goal No. 3 promoting good Health and Well-Being.
Kuala Lumpur, 4 January 2021 - Bringing the Christmas spirit of giving last year, Tune Protect Group Berhad ("Tune Protect" or "Company") fulfilled the wishes of two Orang Asli communities through its 'Wish Upon A Christmas Star' initiative that provided essential food items to 123 families from two Orang Asli villages in Negeri Sembilan. Collaborating with Majlis Belia Orang Asli Malaysia ("MBOAM") and Majlis Belia Malaysia ("MBM"), Tune Protect rallied a donation drive among its employees for essential food items for a total of 95 families in Kampung Batu Peti, Rompin, and 28 families in Kampung Jeram Padang, Bahau, both in Negeri Sembilan.
Tune Protect champions the idea of assisting Orang Asli youth to venture into entrepreneurship to attain financial independence by. Tune Protect organizes bootcamps that teach basic financial knowledge and skills necessary for entrepreneurship and to make a living. However, the Orang Asli communities have not been spared of the impact of the COVID-19 pandemic and in response to their appeal for assistance, Tune Protect shifted its gears to contribute the essentials requested during the festive season to lift their spirits and help to see them through tough times brought on by the pandemic.
Many Tune Protect work-from-home staff in Klang Valley, as well as those located in different parts of Malaysia, including East Malaysia and even in Australia, responded speedily to the 7-day donation drive organised during this ongoing Conditional Movement Control Order to quickly deliver essential food items to the Tune Protect Headquarters in Wisma Tune, Damansara Heights to help the Orang Asli villagers. The essential food items donated include rice, wheat flour, cooking oil, sugar, salt and a nutritious beverage, were delivered and handed to the villages by MBM right before Christmas.
Youth from these two villages attended Tune Protect's Orang Asli Financial Literacy, Empowerment & Entrepreneurship Programme (FLEE), which was initiated in 2018. The FLEE programme has been an ongoing initiative by Tune Protect to introduce inspirational and practical training for the Orang Asli communities with a mission to help them flee aimlessness, joblessness, poverty and social ills.
"Staying true to one of our core values, 'Better Together', the spirit of coming together as one has never been stronger here at Tune Protect. It is heartwarming to see the response from our people, joining forces for this cause and showcasing the true spirit of Christmas. We take pride in our FLEE programme that provides Orang Asli youth with the means for them to sustain their livelihoods, but this time around, we responded to their wish to have basic food essentials by providing them with what they need most in times of the pandemic," said Yap Hsu Yi, Chief - People & Culture of Tune Protect.
The FLEE Programme is a 3-phase programme which consists of boot camps that are organised in collaboration with MBOAM which welcomes the participation of Orang Asli youths from any tribe, village and state who want to explore entrepreneurship and bring it back to their villages to inspire other youths as well. A total of four Orang Asli businesses were successfully registered with the Companies Commission of Malaysia as a result of FLEE. They are OA Bamboo Straw Enterprise by the Semelai entrepreneurs from Negeri Sembilan, OA Beauty by Jahut entrepreneurs from Pahang, OA Asli Zara Enterprise by Semai entrepreneurs from Perak and EBalar Handicraft by the Temiar entrepreneurs from Kelantan.
FLEE is a flagship programme by Tune Protect that is in line with the Company's Corporate Social Responsibility ("CSR") Framework with three pillars that promote Financial Literacy, Entrepreneurship and Protection. Tune Protect seeks to meaningfully assist dependent and underserved communities within its reach under the CSR framework, with and the Orang Asli communities as the beneficiaries of the FLEE programme.
For more information on Tune Protect's local community engagements, please visit their website at www.tuneprotect.com